What is Your Social Security Strategy?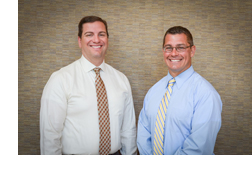 Instructors (L-R): Daniel P. Batty, CFP®, CHFC®, CFBS®, CFS, CLTC , and Michael Skiff, CFP®, CHFC® of U Financial Group

Social Security is fairly simple provided you have worked long enough to earn the required number of quarters and were never married. However, when you add two-income couples and/or divorce into the mix -- both historically high among baby boomers -- the decisions become very complicated. The problem is, making the wrong choices can result in less income for the rest of your life.

This course walks you through common but surprisingly complex
situations involving Social Security, including:

1) how being married, divorced or widowed impacts your retirement benefits;
2) how to give your Social Security check a government-guaranteed boost; and
3) how benefits for one spouse are affected by when and how the other spouse files.

This presentation will educate you on the many decisions involved in claiming Social Security, as well as their consequences, and provide strategies to maximize the benefits received. CRN202002-233743

---
Sorry, we are no longer accepting registrations for this course. Please contact our office to find out if it will be rescheduled, or if alternative classes are available.